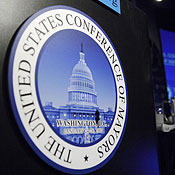 It seems like every group has a conference, seminar, meeting, gathering, retreat or spa day lately, and the U.S. Conference of Mayors is no exception.
Well, except for the fact that the group passed a
resolution
in support of ending the exclusion of gay couples from marriage.
The resolution, titled "Equality and Civil Rights for Gay and Lesbian Americans," included support for marriage equality, endorsing the Employment Non-Discrimination Act, the Military Readiness Enhancement Act, the Uniting American Families Act, and the Matthew Shepard Local Law Enforcement Hate Crimes Prevention Act.
Now, I
know to some, it may not seem like a big deal, but today's mayors are tomorrow senators and congressmen and governors and presidents.